TEAM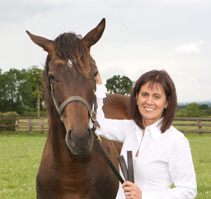 Sheila Grassick is the owner of Newtown Stud which she purchased with her late husband Brian in 1996. They ran the farm together successfully for a number of years until his untimely death in 2009. Sheila is the backbone of the entire operation and she continues to maintain the high standards set at Newtown Stud.
Cathy Grassick, daughter of Sheila and Brian, now assists her mother in the running of Newtown Stud. She combines this with working for Brian Grassick Bloodstock the successful bloodstock agency set up by her parents in 1991. She has many years experience working with horses in a wide range of roles and also has a degree in Business and Law from UCD.
Sally Ann Grassick recently returned to Ireland after spending nine years in France working for the French racing channel Equidia and riding as an amateur jockey. She currently divides her time between working as a racing tv presenter, freelance journalist and taking care of the administrative side of Newtown Stud.
Our Farm Manager is Caroline Hannon, who studied Equine Science at the University of Limerick. Caroline joined the team at Newtown Stud in 2009 and spent two years as stud groom before taking over the role as Farm Manager. This followed on from two years at Loughbrown Stud as Stud Groom. She also spent time working for Coolmore Stud as part of the team at their American operation, Ashford Stud, and worked with thoroughbreds during her time in Australia. She is instrumental in the success of Newtown Stud.
Caroline is ably assisted on the farm by our team of dedicated and skilled employees. We use the services of the renowned Anglesey Lodge Equine Hospital and our chief vet is Mark MacRedmond. We have an excellent farrier in David Boyne and we also use top equine dentist Brian Coonan and renowned equine physical therapist John Roche.
Brian Grassick a tribute
Brian Grassick was the visionary who lovingly restored Newtown Stud with the help of his wife Sheila. The success and excellent reputation of Newtown Stud are a result of the hard work, passion and team work that they put in since purchasing the stud in 1996. The following article was printed in the Irish Field following his death in January 2009 and it is a fitting tribute to the founding member of our team. Click here to read.